Description
Do you want to accept payments by cryptocurrency?
Crypto currency is the future of international finance. Accept payments by crypto currency right now and get ahead of your competitors!
Our module makes it possible to pay for goods with bitcoins and other popular crypto-currencies (BTC, ETH, BCH, DASH, ZEC, etc.).
A page with a payment form is generated individually for each order and supports all major languages, allowing you to accept payments from customers around the world.
List of supported crypto currencies:
Bitcoin
Bcash
Blackcoin
Bytecoin
Dash
Dogecoin
Emercoin
Ethereum
Litecoin
Monero
Peercoin
Primecoin
Reddcoin
Ripple
Zcash
Purpose of the module
This module is primarily created for your customers, it will help them make shopping on your site more convenient and enjoyable. Caring for customer convenience can play an important role in choosing your store in comparison with competitors.
Video
Reviews
Manual
The module is installed by standard means of CS-Cart.
Add-ons - Manage add-ons - Download and install the module

Payment settings for cryptocurrency are located in the Administration menu
Administration - Payment methods - Cryptocurrency

In the "General" tab, you can configure the basic payment details: the name of the payment method, the processor, the payment category, taxes, and a brief description of the payment instruction.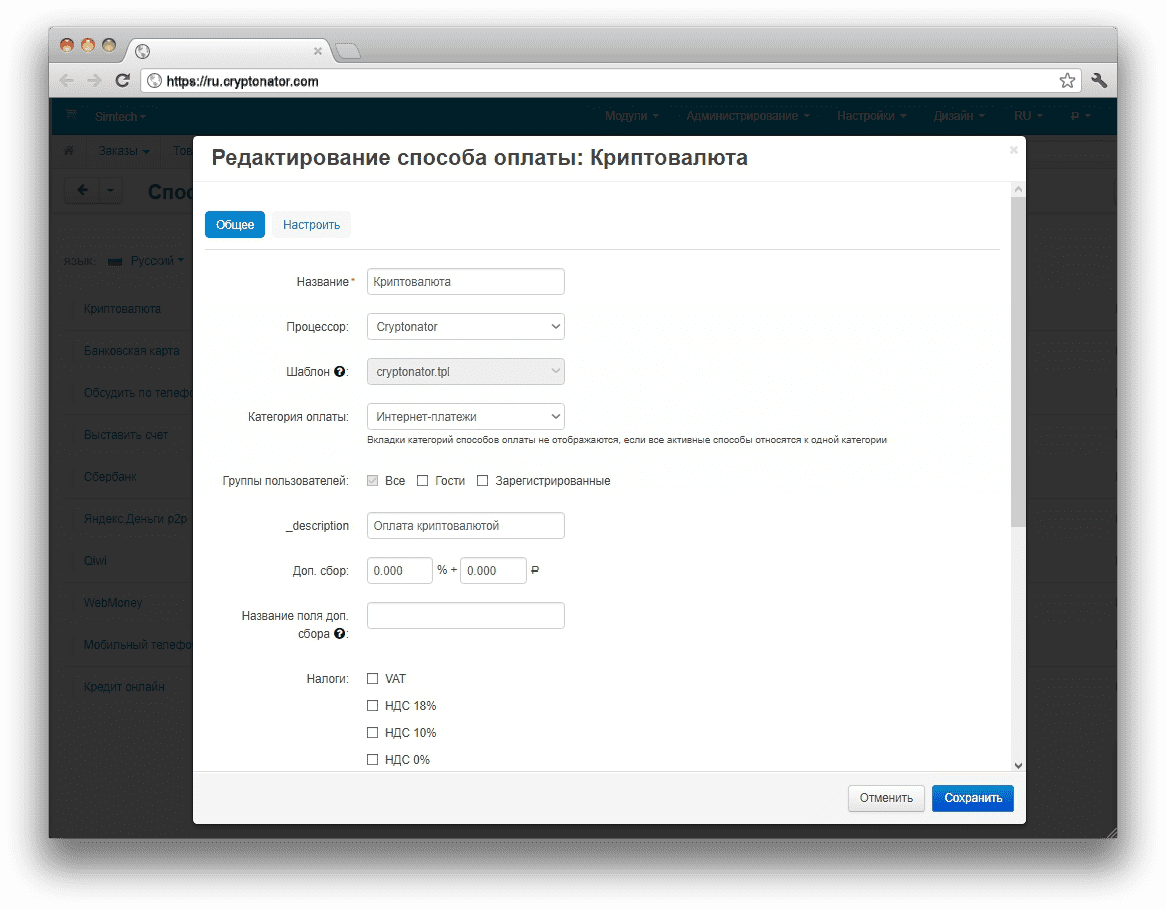 For further configuration, you must register in the online Cryptor purse. All actions are fairly simple and quickly doable.

Instructions for registration:
Go to the site at the address - https://ru.cryptonator.com
Click button "Open account"
Necessarily select the bat "Account for the store"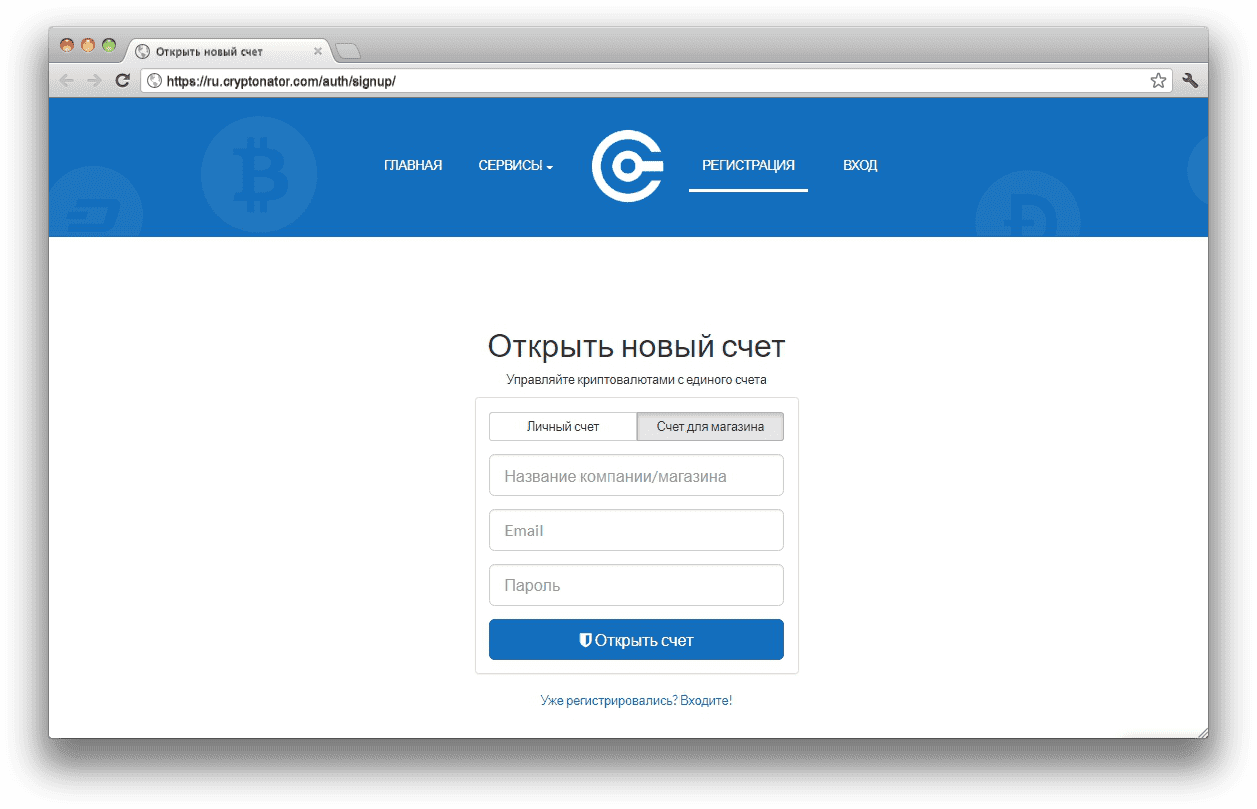 Register your store, specify its name, email and password. Please note that regular accounts can not accept payments. After registration you will need to confirm your email, following the link in the received letter.


4. Configure the required crypto-currency accounts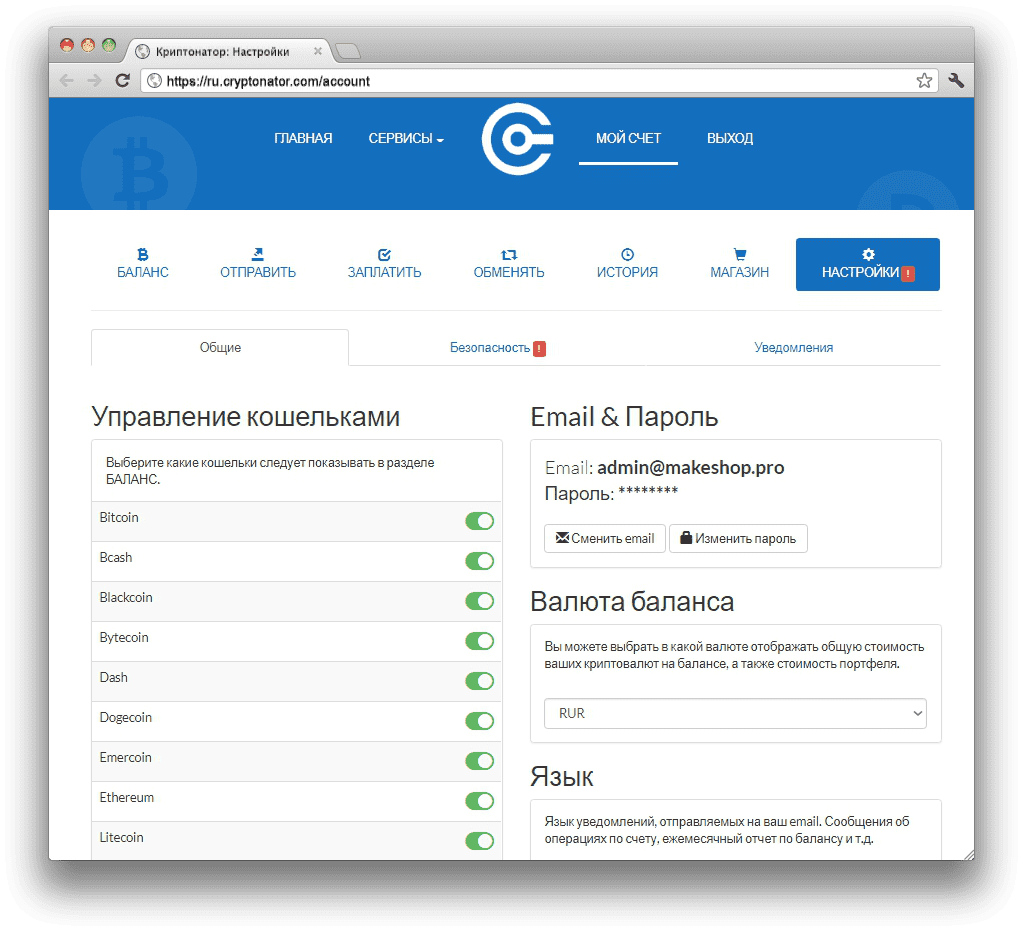 In the SETTINGS section, select the crypto-currency accounts in which you plan to accept payments. Your customers will be able to pay you only in the currencies in which you have accounts opened. Accounts can be turned on and off at any time.


5. Fill out the store profile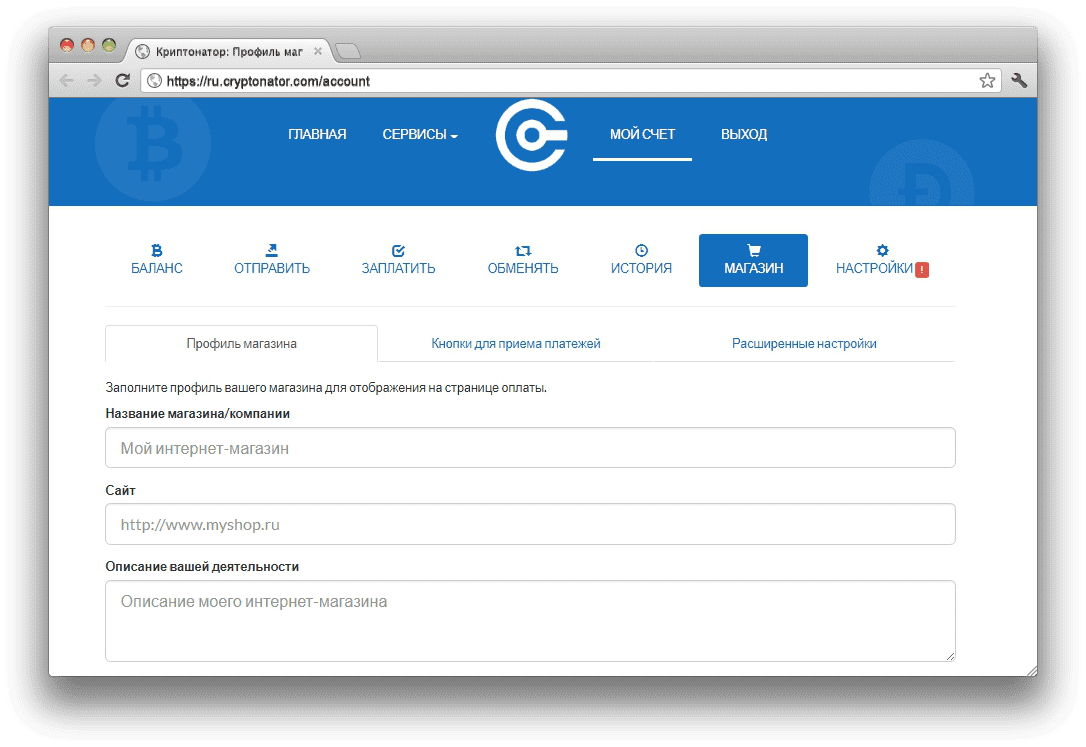 After successful registration of a purse, it is necessary to finish settings in CS-Cart.
The "Customize" - "Information" tab already contains the URL for the customer's payment notifications:
Notification URL
URL for failed payment / cancellation
URL for successful payment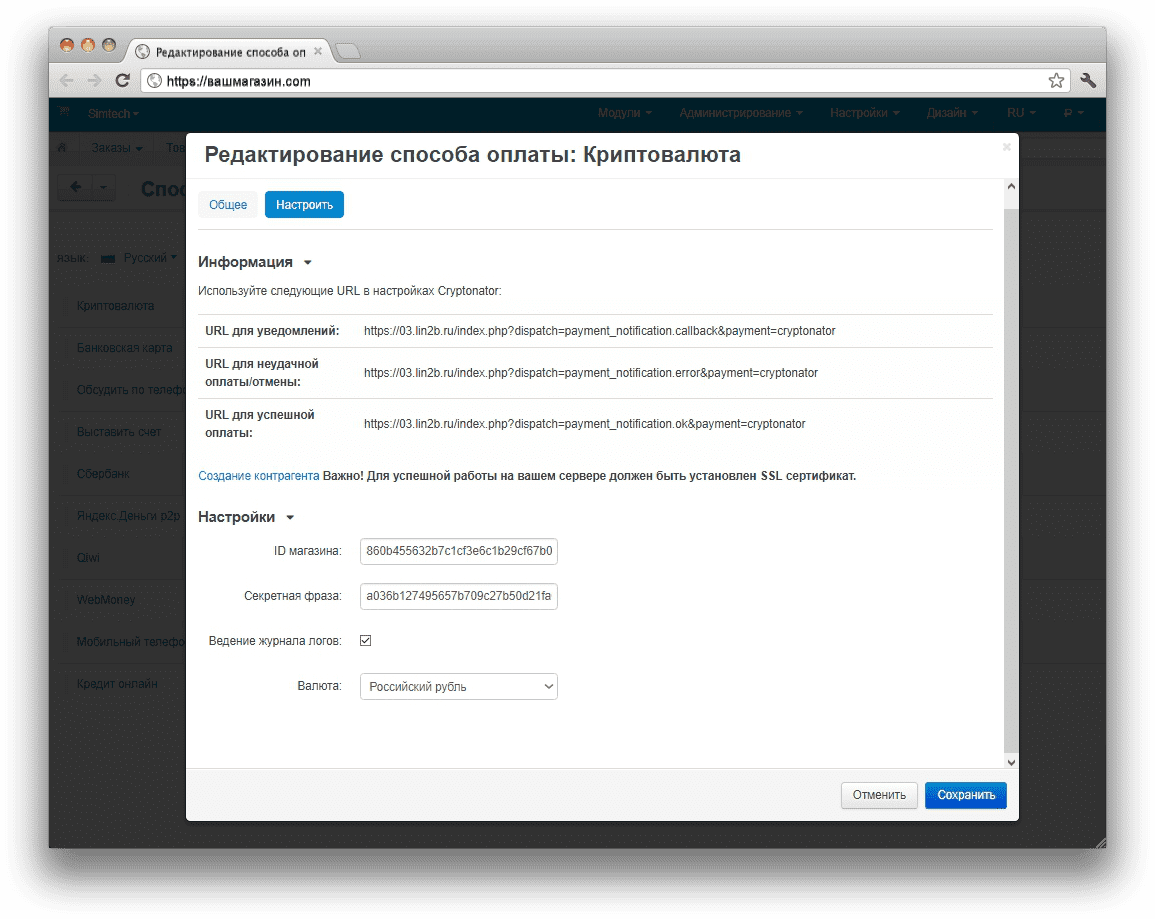 These URLs must be entered in the settings of the online Cryptor purse.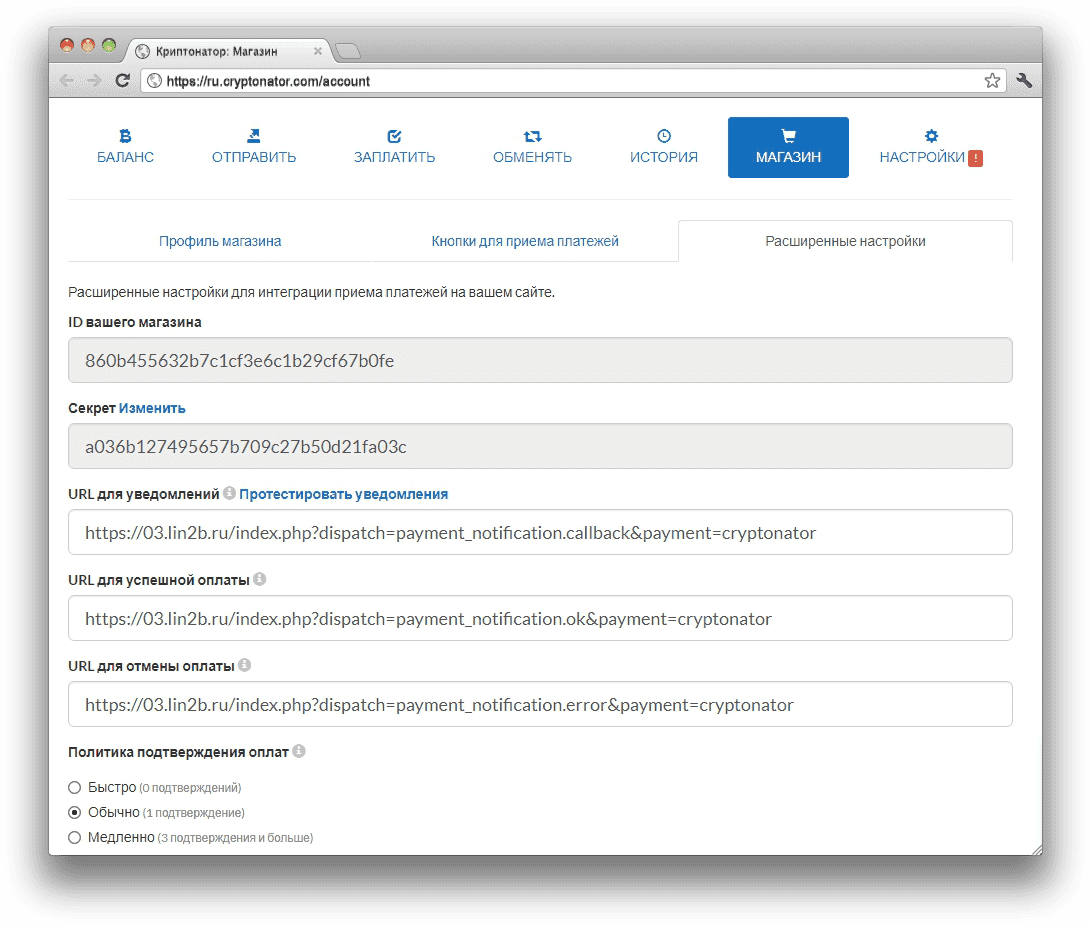 And the lines of your store ID and the Secret should be entered in the appropriate lines in the CS-Cart on the "Settings" - "Settings" tab.
Then we save the changes made.
Updating
Version ms_cryptonator_v1.0.1 from 18.03.2018
[!] Fixed translate
Version ms_cryptonator_v1.0.0 from 10.03.2018
[+] The first version of the module


Characteristics
Skin:
AB Unitheme

Responsive Theme

AB YOUPITheme

Bright Theme

Simple Theme
Version compatibility:
4.3.X

4.4.X

4.5.X

4.6.X

4.7.X

4.8.X

4.9.X
Обсуждение
Обсудить модуль или задать своим вопросы по его работы вы можете
на форуме
.